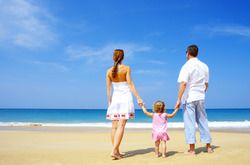 IVF, or in vitro fertilization, can make dreams of parenthood a reality for those who have had difficulty conceiving naturally. If you are considering IVF treatment at an Omaha based fertility center, we invite you to visit us at the Heartland Center for Reproductive Medicine. Though the success of IVF treatment greatly depends individual factors including overall health and age, there are things you can do to help prepare your body and help encourage successful IVF treatment.
Preparing For IVF Treatment
Part of the preparation process for IVF treatment involves a variety of screenings. Different types of screenings are performed to help determine what may be causing problems with conceiving naturally in an effort to compensate for such issues once the IVF treatment begins. Screenings are done for both egg and sperm production. Screenings include:
Ovarian Reserve Testing: Ovarian reserve testing is performed to test the quality of a woman's eggs as well as to determine the amount of eggs she has available. This test is performed by taking a blood sample during the first few days of the menstrual cycle. From the blood, specific hormone levels are measured.
Uterine Cavity Exam: A uterine cavity exam is generally performed prior to IVF treatment to evaluate the uterus. A uterine cavity exam can be done in different ways. If done as a hysteroscopy, a tool called a hysteroscope will be used to view inside the uterus. The hysterosope is a thin, flexible tube with a small camera on the end. This tube is inserted through the vagina and cervix and up to the uterus. The uterine cavity exam may also be done with ultrasound. This method is called sonohysterography and involves the injection of fluid into the uterus via the cervix. The fluid allows the ultrasound to produce images of the uterine cavity.
Semen Analysis: A semen analysis is generally done before IVF is considered - generally as a first test in determining fertility problems when couples have difficulty conceiving. However, if a semen analysis has not be performed prior to IVF treatment, the test will be done to determine both the quality and number of sperm produced
Screenings are not the only step before IVF treatment. Prior to IVF treatment, the woman's body must be prepared with a series of medications designed to boost the hormones necessary for conception. There are different types of medications and because every women is different, the medications required will vary from patient to patient though in general, most women will need at least one to two weeks of ovarian stimulation prior to IVF. The different types of medications are used for:
Ovarian Stimulation: Ovary stimulating medications are often administered via injection and are used to stimulate the ovaries to produce more than one egg at a time.
Oocyte Maturation: Oocyte maturation medications are used to help make the eggs mature at the proper time.
Prevention of Premature Ovulation: To prevent the release of eggs too soon, or premature ovulation, medications may be given.
Preparation of the Uterine Lining: Progesterone supplements may be given to better prepare the uterus for embryo transfer or egg retrieval.
See if You're a Candidate for IVF
If you live in Omaha and would like to see if in vitro fertilization is right for you, schedule a consultation with one of our doctors today!
Related to This